Saturday marked the sixth year Pride was commemorated and celebrated in downtown Tahlequah, with everything on the menu from music to food to free hugs.
Tahlequah Pride was first organized as a picnic in the park by Carden Crow and Shronn Schuelke because they were going to have to miss the LGBT Pride event and parade in Tulsa. And the event is still growing.
The Oklahomans for Equality Chapter: TahlEquality Pride continues to be the last Saturday of June. On June 28, 1969 - 50 years ago - police raided the gay bar Stonewall Inn in Greenwich Village, New York City. This set off riots and demonstrations, and a call for equality.
The Saturday event officially kicked off with a march from the Cherokee Nation Courthouse Square to Norris Park. Numerous participants helped carry a rainbow flag horizontally down Muskogee Avenue. Some of the performers rode in vehicles, and one of those vehicles was Cody Barlow's truck. Barlow, a Cherokee County resident, went viral for using colored duct tape to make a rainbow and the phrase "Not all country boys are bigots. Happy Pride Month" on the tailgate of his truck.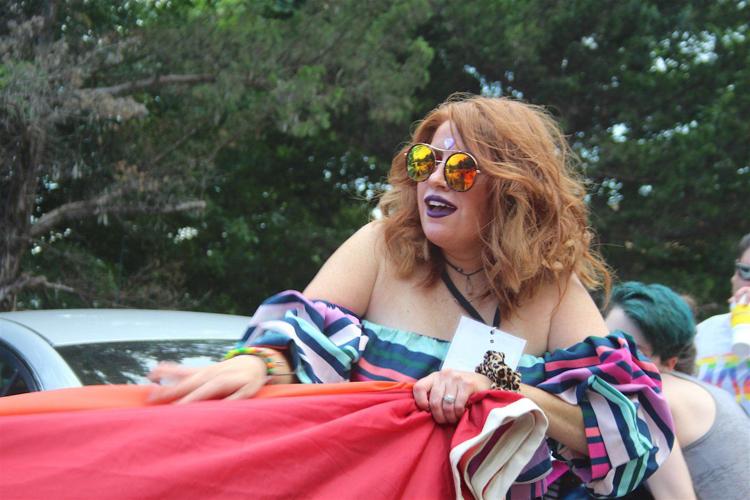 Once the march made it to Norris Park, sidewalk chalk, a food truck, inflatables for the kids, music, vendors and more greeted participants.
Nonprofits were set up to share information, including: City Year, Oklahomans for Equality, Tulsa Cares, Free Mom Hugs, National Indian Women's Health Resource Center, Cherokees for Black Indian History Preservation Foundation, Cherokee County Democratic Party, and the Unitarian Universalist Congregation of Tahlequah. Foster Connections and Oklahoma Department of Human Services were both on site to raise awareness of the number of children in the foster care system, and that all types of families are considered for foster homes. Other booths offered jewelry, artwork, T-shirts, cell phones, and additional goods.
Dan and Cathy Cott walked in the march and had a booth set up in the park, all the time offering free hugs.
"There are a lot of people here. It's fantastic," said Cathy. "All these little kids and families are wonderful."
While these parents of a transgender son have been learning about and advocating for LGBT equality and rights, the Cotts have also been comforting those who need a hug. On Saturday, they were surprised to see the Oklahoma chapter of the organization Free Mom Hugs setting up in Norris Park. The group is made up of parents and allies who show unconditional love to the LGBTQ+ community.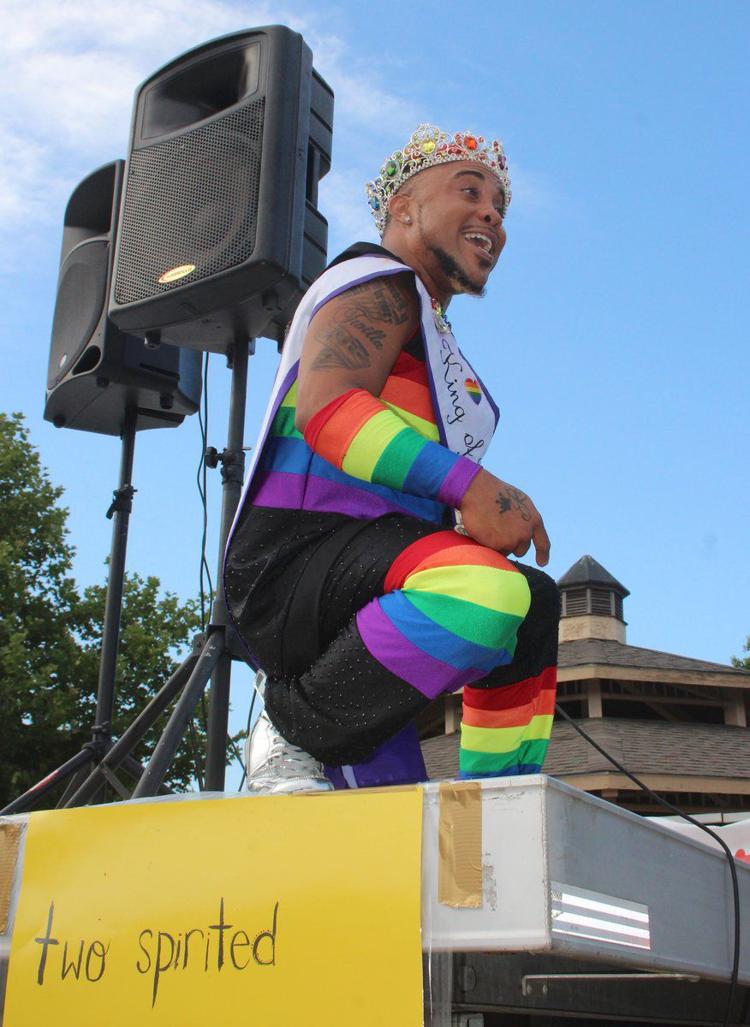 "They've been trying to make it to every Pride event in the state. We're officially affiliated," said Cathy. "We want to make a difference to the kids in the area. No kid should go without a hug. Hugs heal a lot of things."
Ty Wilson had a booth featuring snow cones, T-shirts and information. While he runs a shirt-printing business, he is also the president of Cherokees for Black Indian History Preservation Foundation.
"We try to be around everyone. I have a gay son and a gay uncle. All minorities are the same, and we've got to watch out for each other. People are people," said Wilson.
Also doing double duty was Kelly Anquoe. He had original art and T-shirts available at the Tahlequah Creates booth, and he is president of the UUCT.
"We're here to support the inherent worth and dignity of all people. The Unitarians have a long history of supporting the LGBT community," said Anquoe. "We're giving free water, love, spirit and pride."
The UUCT table was one of the few places to get free drinking water, but other booths had bottles available for a price or a donation. A large misting tent was set up, as well as an inflatable unicorn that shot a stream of water out of its horn.
On stage, Miss Oklahoma Comedy Queen 2019 Josie Lee Turrelle returned to be master of ceremonies again. Turrelle bantered with the crowd and introduced the performers and speakers.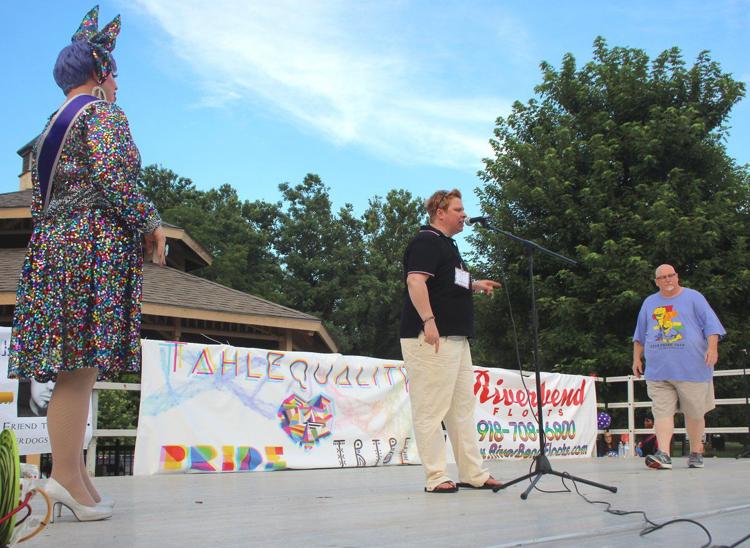 Toby Jenkins, executive director of Oklahomans for Equality, said a few words to the crowd.
"Tahlequah, you inspire us, and to think it all started 50 years ago in New York City," Jenkins said, mentioning the Stonewall riots in 1969. "This is the best of America, where everyone can live their life, pursue happiness, and love who they want."
Carden Crow, president of TahlEquality, told the crowd these types of events can't be taken lightly.
"Ten years ago, this wouldn't have happened. Some of you don't know a world without Pride," said Crow. "We live in such a beautiful community. Give some praise to Tahlequah for being so blue."
Jeromy Klinger, vice president of TahlEquality, said the event went well this year.
"There is a lot of turnout and a lot of organizations supporting us," said Klinger. "I think the crowd is getting younger. I'm glad they're able to come out."
One new feature Klinger help organize this year was a color explosion from the crowd. Packets of colored powder were passed out, and after everyone yelled, "Happy TahlEquality," they ripped open the packets so colors flew all over the people.
Klinger said that once TahlEquality members recover from Pride, they will be looking for more board members and more volunteers. Those interested should visit the Oklahomans for Equality Chapter: TahlEquality Facebook page.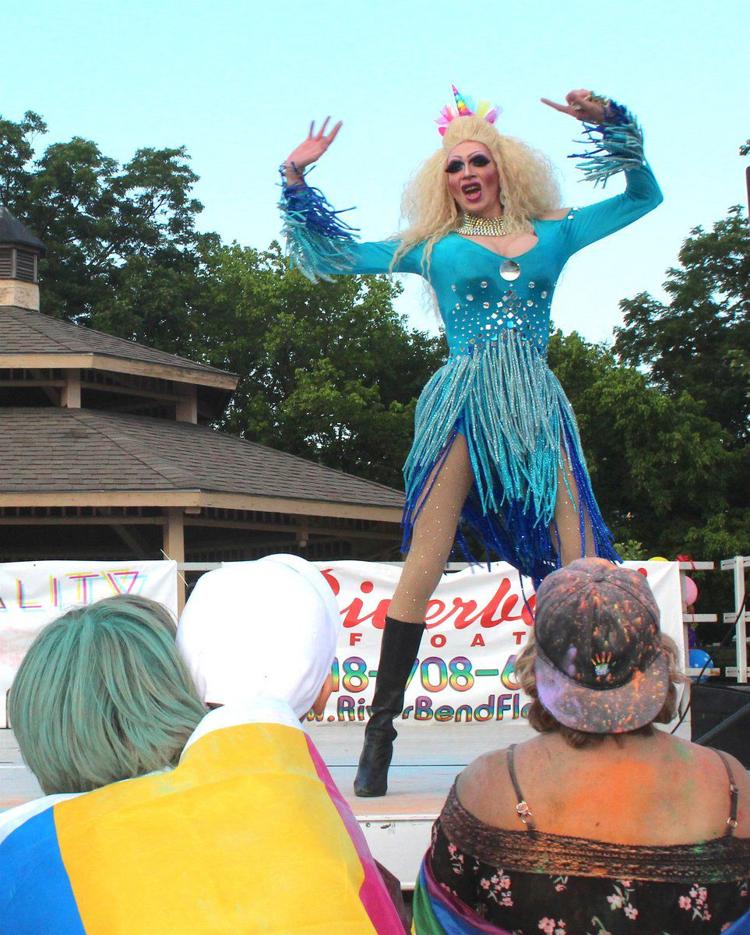 The drag shows and entertainment in the park were for all ages, but the 21 and older crowd got to see the queens and kings cut loose inside Ned's that night.