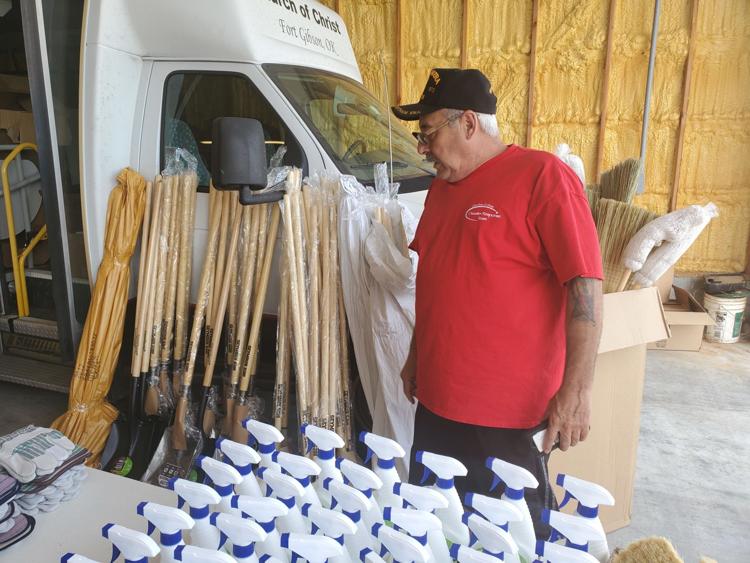 FORT GIBSON — The near-historic flooding of the Arkansas River recedes, but the need for help remains. The Church of Christ in Fort Gibson hopes to provide some of that help through two separate teams — the Churches of Christ Disaster Relief Effort and the Churches of Christ Disaster Response Team.
The two groups have convened in a garage bay behind the church on Lee Street. Stacks of supplies sit inside while volunteers chat and organize, waiting for people they can assist.
"You can kind of feel a spirit of community here," said DRT volunteer coordinator Karen Kofahl. "It's just phenomenal, it really is."
The DRE aims to provide those in need with food, water, clothes, and shoes. The DRT, in turn, serves as a gathering post for volunteers who will fan out into afflicted communities to help clean homes ravaged by the flood.
"We are working hand in hand with the DRE in distribution," Kofahl said. "People can not only get the items you see here but also apply for furniture, appliances or mattresses and box springs. We don't make promises, but we can make an appeal on their behalf."
That sense of community is what brought Church of Christ members Merri Davila and her husband Carlos onboard, Merri said.
"I moved here from Muskogee to Fort Gibson in December. They are such a caring community," Merri said. "It's like a big family. It's a small, close community. It's the most awesome thing I've ever seen."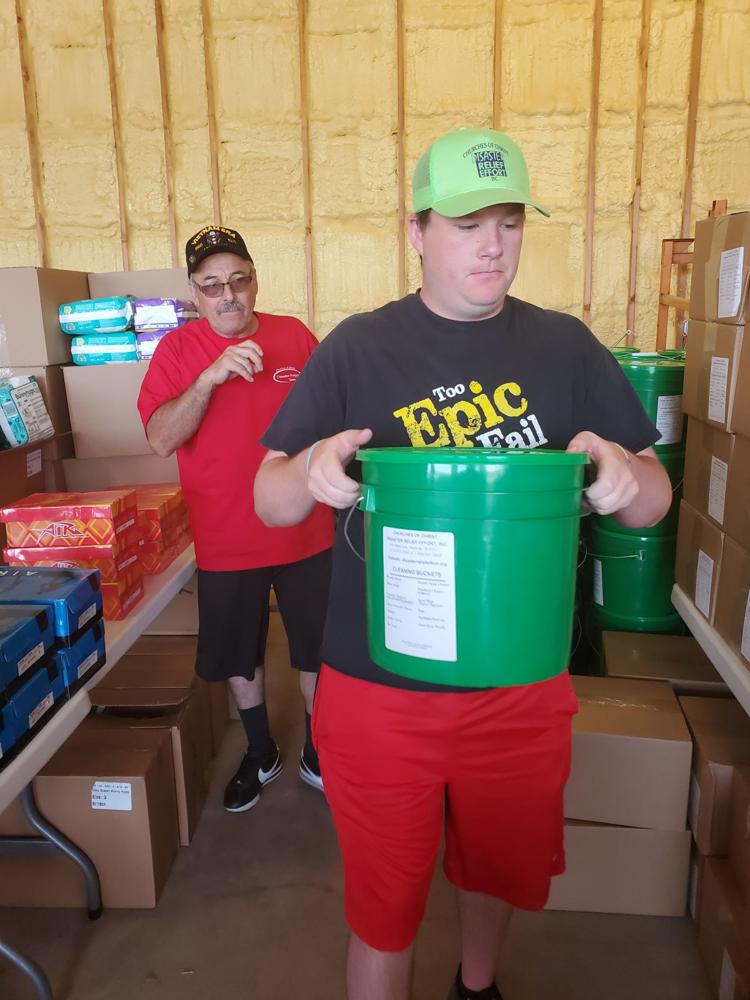 DRE coordinator Charles Dortch noted that while his and Kofahl's teams have been in Fort Gibson for more than a week, they still have plenty of food and supplies to give away.
Those who are in need of help should visit the Church of Christ on Lee Street between 8 a.m. and 5 p.m. Those who are interested in volunteering should visit disasterresponseteam.org and look for the 'volunteer sign up' option, Kofahl said.
"For our out-of-town registrants, we can provide three hot meals and a place to stay, with air mattresses and a shower," Kofahl said. "We'll give them what they need to get the job done."
Davila noted that those in need may not even have to travel to Fort Gibson.
"We do have people who can bring stuff to them if they don't have transportation here. There's people I know who don't have transportation all the way over to Fort Gibson," Davila said. "All they have to do is make the call, and we will get to them."
In short, Davila said, she and the two groups wanted to do the work of the church.
"We want to do God's work, you know, we want to help those in need. God says help those in need," she said. "We've gotten overflow from disaster relief. We've got plenty of supplies, we just need folks who need them to ask. We're here for them."