U.S. Rep. Markwayne Mullin is a stalwart supporter of the president's trade policies despite signs of an economic downturn that some experts believe may be linked to trade tariffs.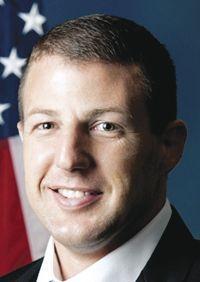 The Westville Republican, who is serving his fourth term representing Oklahoma's 2nd Congressional District, said President Donald Trump is doing what his predecessors failed to do. The president, he said, is protecting middle-class workers and preventing China from "taking advantage of our market." 
"Just since we started doing this, we've created over 500,000 brand new manufacturing jobs," Mullin said in defense of Trump's trade policies. "These aren't jobs manufacturing companies are hiring now, these are brand new jobs that didn't exist 13 months ago."
Mullin said the "economic engine" of the nation's manufacturing sector spurred the development of another 6 million jobs. Crediting Trump's trade policies for the purported growth, the congressman said American manufacturers are "bringing the jobs back to the United States rather than developing it (goods) in China and then selling it (goods) back to the United States."
Mullin cited the Bureau of Labor Statistics as his source for his jobs numbers, but a report released Aug. 2 by the agency shows the U.S. manufacturing sector has added just 320,000 jobs during the past 19 months. The Bureau of Labor Statistics' August report notes "manufacturing has added an average of 8,000 jobs per month so far in 2019, after adding 22,000 jobs per month in 2018."
The congressman, when presented with the same statistics provided in a report of economic indicators specific to Oklahoma, said he deals "with stuff federally." Pointing to economic indicators like gross domestic product, Mullin said the policies "President Trump has put in place has been good for our country."
"Our economy has had a consistent 3 percent climb, which is the first time we've been able to do that month after month after month, since the president's been in office," Mullin said. "So how is that bringing our economy down?"
Economic data compiled by the Federal Reserve Bank of Saint Louis, however, show real gross domestic product has grown at a rate of more than 3 percent only two of the 10 quarters Trump has been in office. GDP grew at a rate of 3.2 percent during the second quarter of 2018 and 3.13 percent the following quarter — almost immediately after tax cuts were triggered — and declined in the fourth quarter of 2018 a few months after the implementation of trade tariffs.
Mullin said the tariffs do more harm to the Chinese economy than they do the U.S. economy. He discounted data compiled by a broad coalition of farmers, businesses and trade organizations that support free trade that purport to show economic impact of trade tariffs, saying he was unaware of the organization or its source of information. 
Tariffs Hurt the Heartland data, compiled from the U.S. Census Bureau, show Oklahoma taxpayers to date have paid $218 million in additional tariffs for consumer goods. The coalition's data show there has been a year-to-date drop of 30 percent in Oklahoma exports that were subject to retaliation this year.