Time is running out to experience the 15 annual Northeastern State University Juried Student Art Exhibition.
Works in a variety of different media will be on display at the NSU Art Gallery in downtown Tahlequah until April 30.
NSU Instructor Sylvia Hunter said people who come to shows are often surprised by the quality of students' work, and much of it is also for sale.
"I have people in the community ask me all the time where they can buy affordable art, and I think this is the place, because our student work is amazing," said Hunter.
Most of the work displayed is by senior art majors, though anyone enrolled in an art class at NSU is allowed to submit work for the show. Undeclared sophomore Houston Brassfield is one of these students. One of his works received first place in photography and another received an honorable mention in the drawing category.
"What I love most about the exhibition is being able to put myself out there among the other artists here at NSU," said Brassfield. "I've never really had anything in a official gallery up until now."
He said the most difficult part was finding the money to put everything in frames, matting, and getting cut glass for the frames, which he eventually found at local antique shops.
"They go through this whole process and they don't even know if their work will be featured," said Hunter. "It's very competitive; there are a lot of good student pieces."
Brassfield said it was frustrating to find a way to make his artwork "outshine" the many other strong pieces submitted by other students.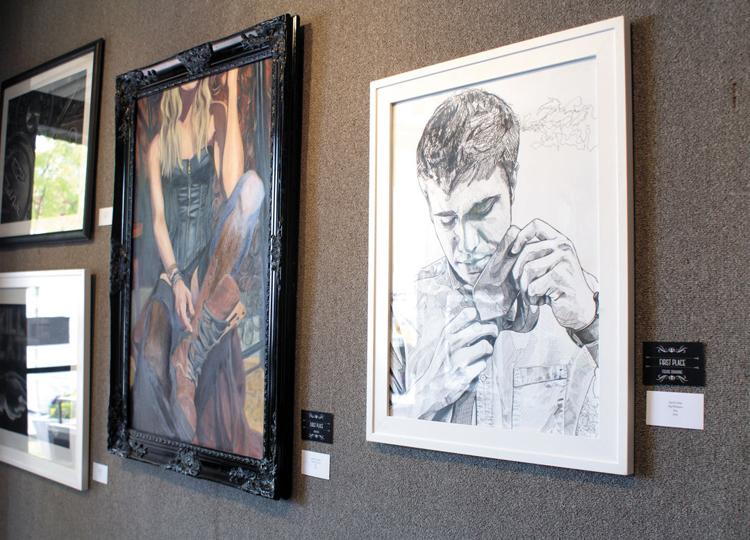 Each year, the art department at NSU hosts the juried art exhibition and invites a professor from a different institution to judge the students' work. Hunter said they purposely look for jurors who are not only art professors, but also regularly exhibit their own art and have experience with different media.
The juror has to judge works in 12 different categories, from watercolor to mixed media to graphic design. He or she decides which pieces will end up in the show.
"It's good to have someone come in who doesn't know the history of each student," said Hunter. "We don't influence the juror in any way."
After the juror goes through each submitted student work and decides which are the strongest pieces, they will then decide which is the best piece in each of the 12 categories.
"We take all of the pieces that won best in each category and we place them side-by-side, and out of these pieces, they pick the best in show," said Hunter.
Senior Malorie Anderson won Best in Show, along with multiple other awards.
Hunter herself teaches many of the introductory classes, and she said it is good to see the progression students go through from when they enter the program to their senior year.
"I'm very proud of them, too; it takes a long time to create artwork," said Hunter.
Brassfield's experience with his own work reflects this.
He spent about three hours in the studio for each of his photography sessions, but his drawings took him about three weeks or more to finish.
"I mostly would get frustrated with it and put it away, and once I would calm down, I would get back to work on it," said Brassfield.
Many of the student projects came out of their class assignments, including some of the introductory art classes in the foundations category. This category is no less competitive.
"With this juried show, we want to give our students the experience of a professional show, so we try to follow the process of a professional show," said Hunter.
The exhibition is important in part to Brassfield because it makes students see themselves as more than just students and as actual artists.