CHECOTAH — Daniel Tarkington laughs when someone wonders if he's the fastest mayor in the state.
"I don't know of any others racing," said the man who has led Checotah for four years. "I remember a Piedmont mayor who drag raced in the 1980s or 1990s and (Rogers County Sheriff) Scott Walton races the style of car I do."
Tarkington can be found at Thunderbird Speedway on Friday nights behind the steering wheel of his Modified car. Sometimes, he turns laps at Tri-State Speedway in Pocola on Saturdays.
But he brings two very different worlds — racing and politics — that go together like oil and water and merge them in his life.
"When people come to me with a problem, they're not complaining but giving me something to try to make better," the 32-year-old said. "They'll say 'This road's too narrow' or they have a drainage problem. Racing's the same way. I'm taking something that Ford, GM or Dodge put out, and it may not be perfect and I'm trying to make it better. Racing and politics go together."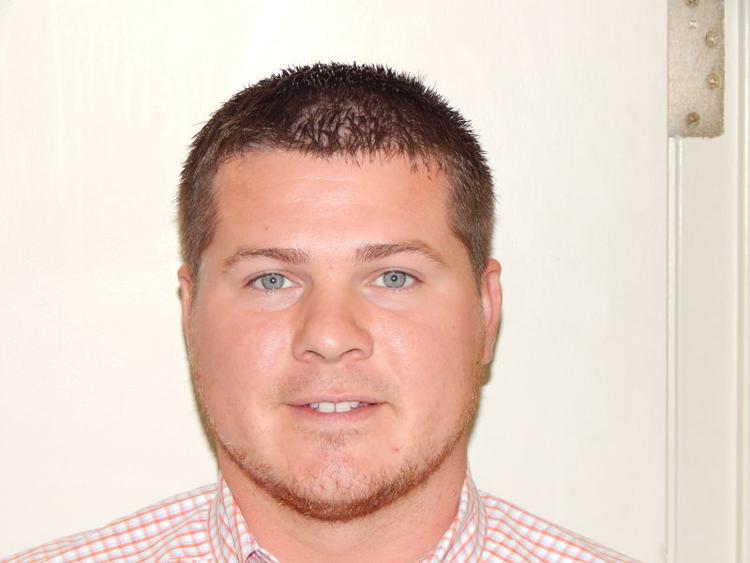 Whether he's traveling to as far away as Bossier City, Louisiana, Grayson County, Texas, or going to Enid, Ardmore, Ada and Springfield, Missouri, he's wearing his figurative mayor's cap.
"Not only did it give me the opportunity to have fun, but when I go through a town, I'm looking around to see what these people are doing, what their draw is," he said. "I've learned a lot about what to make our community better."
Tarkington's racer is also a good conversation starter. Someone may ask him about the government agency stickers or the word Mayor on the sides of the car.
"They don't announce that I'm a mayor a whole lot at the track," he said. "Some people think that's the name of my car. When people do find out about my job, they may holler at me in the pits, 'Hey, Mayor!' People will say to me, 'Most mayors aren't your age.' "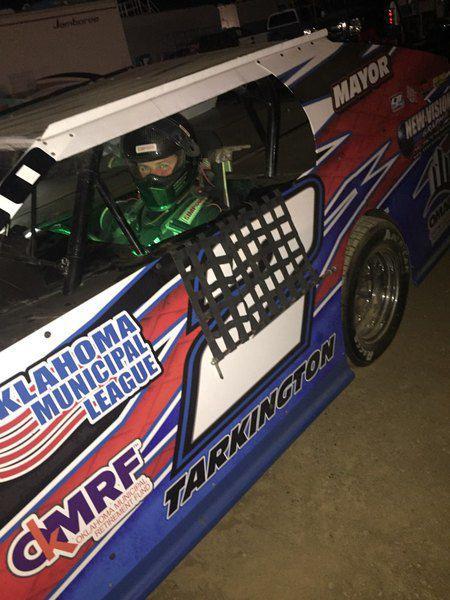 Actually, Tarkington's been racing longer than he's been a mayor. Except for two years off, he's done some kind of racing since he was 14 years old.
"The son of a neighbor who lived behind me were good friends and his dad took us to Thunderbird," he said. "I said to my friend that we could find an old car, knock the windows out and put in a roll cage and go race. After six or seven months, we went racing and I went out for three laps. I got lapped three times and I realized pretty quick that I didn't have enough to be out there. But I kept trying."
Tarkington has been successful, winning the points championship at Tri-State  Speedway last year. He won two races and had 13 Top Five finishes. For that, he received a free pit pass for the year. That's at least saving $30 for every time he races in Pocola and $35 for special races. The racing season is just getting started at Thunderbird.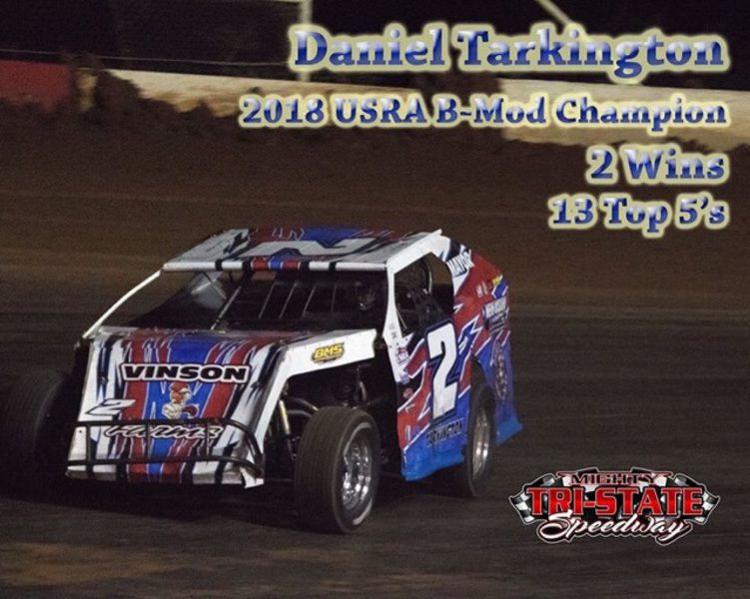 Barring any unforeseen circumstances, he'll be on the track again this week. Running a city doesn't stray far from his thoughts.
"For me, dealing with things every day political-wise, you sometimes need a hobby," Tarkington said. "I like to tinker with my hands and get my hands dirty. I love building stuff that when you're done, you see the end results. My satisfaction comes from seeing how things operate.
"Racing is a good stress reliever for me. It's just a fun hobby."