One word defines Oktaha senior Brock Rodden's career — consistency.
He's hit over .400  in four consecutive seasons, counting fall and spring.
This spring, his average was nine points under his .476 clip of a year ago, but he had three more extra base hits (25) than a year ago.
One marked difference was seven triples to one in 2018.
"I think that's more of him taking a role in being that leadoff guy that kind of set the stage," said Oktaha coach Kevin Rodden of his middle son and this year's Most Valuable Player on the All-Area team selected by the Muskogee Phoenix and Tahlequah Daily Press.
"He ran through a couple of stop signs to get some of those triples."
Ah, the rebellious son.
Not that much though.
It only happened a couple times.
"I've played the game enough where I kind of know my own speed and whenever the ball is in the gap, and I'm rounding second and think I can make it and if he's holding me up, I just try at times to make stuff happen," said son about father/coach.
"I do know that if I would have gotten thrown out, I'd have really heard it from him."
One thing's for sure, being a coach's kid, he's been thoroughly educated on the game. He also grew up one year behind his older brother Brayden, who over the years caught for him when he pitched.
Brayden went on to Seminole State after graduating last May, which made this season a different one for the middle sibling.
"We played together so much, we had that ideal chemistry a pitcher and catcher can have. "He'd give me a sign and I wouldn't think twice about it because he knew what I wanted to throw and what situation I wanted to throw that in."
With a deep pitching staff the past two seasons, Brock's numbers on the mound weren't high, but nonetheless impressive, going 6-0 with an 0.23 ERA with 48 strikeouts over 30 innings. At shortstop a majority of time, he committed just five errors, two in a Class 2A semifinal game where so much collectively went wrong for the area's only state tournament team.
Having battled through some elbow issues last season, he didn't have to be the workhorse on the mound he had been. And now, he'll give up the mound as he reunites with his brother next season at Seminole State, as a middle infielder.
"I'm kind of looking forward to that, one more year with him," Brock said.
But this was Brock's year alone in the powder blue of the Tigers.
"He's always played a year older on every team he played on, and had to prove himself and through that, I think, developed a chip on his shoulder," said his head coach and father. "I think that helped him to say that this season, he was going to be the guy."
And about those signs he ran through?
"I'd say more of them were bigger fields we played on every now and then, like Owasso and Eastern (Junior College)," the coach said.
It is Brock's second MVP honor, having won it in 2017, and his fourth time to be named to the team. This was his dad's second consecutive season to win Coach of the Year honors, the team prior to this year exclusively selected by the Phoenix.
"He's a guy who sees the best in everybody. He'll make good players out of guys who haven't had a lot of experience at that level, like this year with high school experience. He's been doing that so long," Brock said.
Now the coach is without kids on the team, for now. Brodie, an eighth-grader to be, is in the wings.
"It'll be different without a kid on the team this next year," Kevin Rodden said. "But I've kind of adopted these guys so they're already pretty much my own kids."
Two other repeat selections were Warner senior Carson Foreman, a three-time pick, and Tahlequah junior Seth Stacey, a two-timer, both as pitchers.
Oktaha still continued a streak of having a pair of brothers make the team with senior pitcher Jon Schaffer and junior second baseman Harley Shaffer. Joining them is designated hitter Kayden Howe, a junior.
Tahlequah junior third baseman Tate Christian made it. Vian had two players, junior pitcher Austin Taylor and senior catcher Dalton Weer. Fort Gibson had junior outfielder Jace Dortch and the Newcomer of the Year, freshman pitcher Brody Rainbolt. Others with a pair of selections were Checotah with senior first baseman Caden Walker and junior third baseman Caden Martin, and Wagoner with sophomore first baseman Brody Bouher and sophomore third baseman Chase Nanni.
Muskogee with sophomore outfielder Caleb Webb, Hilldale with junior outfielder T.J. Maxwell, Eufaula with senior shortstop Jase Pippenger and Haskell with junior shortstop Jakolby Gouldsby joined Warner with one selection each.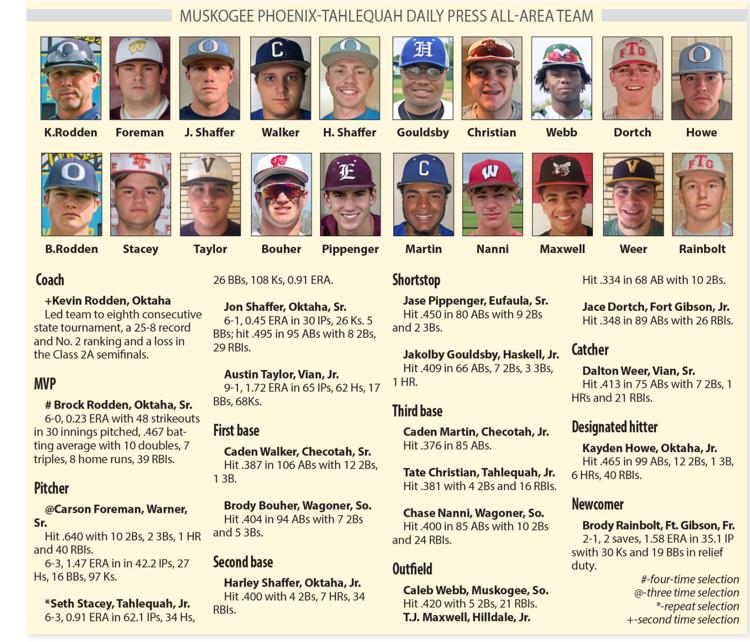 Stacey had the most votes at pitcher, though Foreman collectively had more votes at both pitcher and catcher. Walker, Harley Shaffer, Pippenger and Martin had the most votes at their infield positions, and Webb led all outfielders.